Title: The Heart of Stone
Author: Ben Galley
Date Published: March 30, 2017
Publisher: Self Published
Rating: 3.70 /5.00
Synopsis: 
Merciless. Murderer. Monster. He has been called many names in his time.
Built for war and nothing else, he has witnessed every shade of violence humans know, and he has wrought his own masterpieces with their colours. He cared once, perhaps, but far too long ago. He is bound to his task, dead to the chaos he wreaks for his masters.
Now, he has a new master to serve and a new war to endure. In the far reaches of the Realm, Hartlund tears itself in two over coin and crown. This time he will fight for a boy king and a general bent on victory. Beneath it all he longs for change. For something to surprise him. For an end to this cycle of warfare
Add it on Goodreads | Buy it on Amazon
Hello there allies, archenemies and everyone in between! Today is Day 4 of The Heart of Stone Blog Tour which is by the way just one part of this massive blog tour hosted by The Write Reads. We all get to read different books by Ben Galley!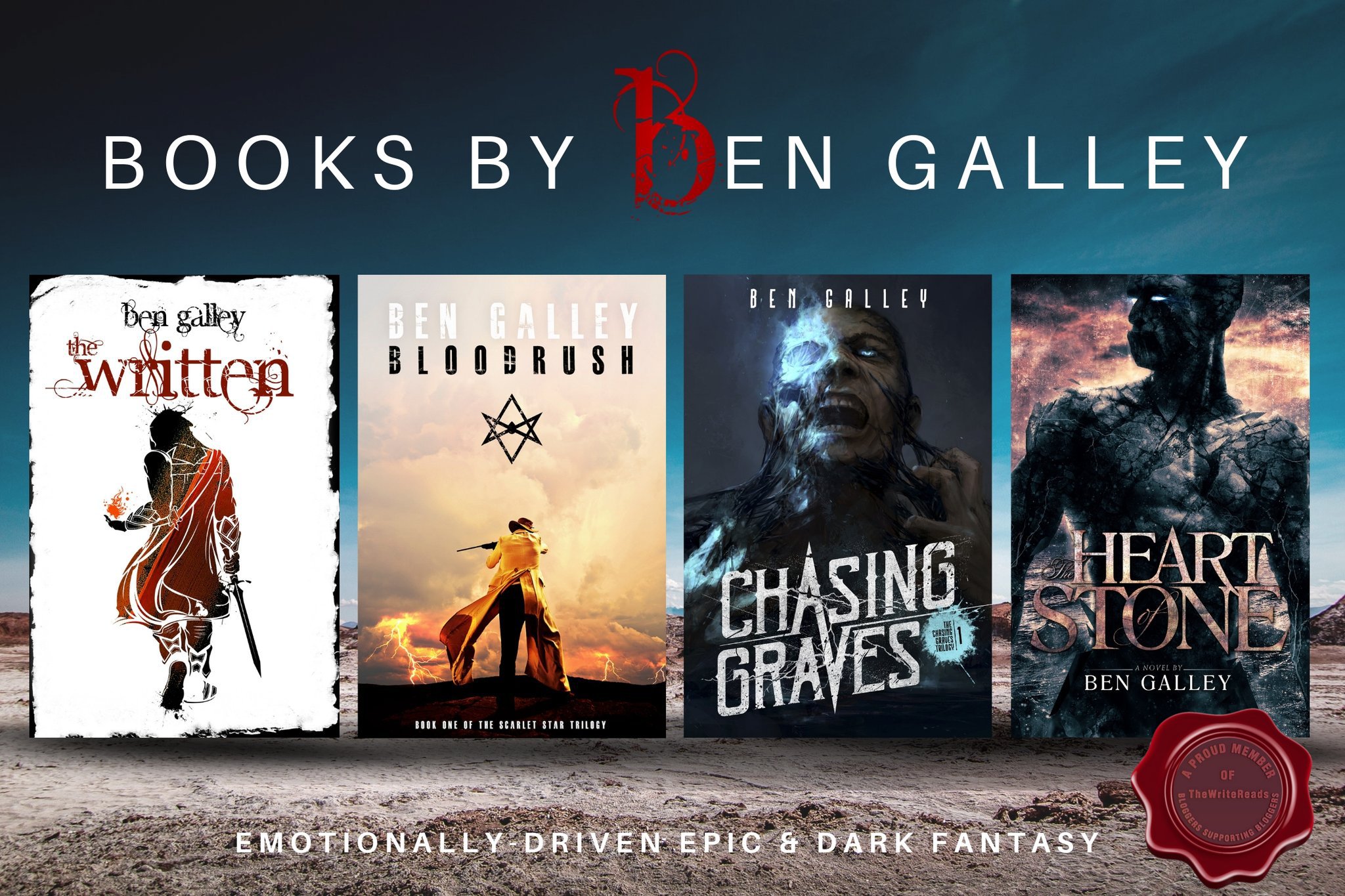 Eloquently written peppered with the right amount of decadence.
"People don't like the reflection of what I am to them. I may be different, all stone and dust instead of skin and blood. But they still see themselves. Copied. Faked in stone. They see their Architect's work in something that isn't flesh, and they can't help but be offended by it, scared by it. Fear breeds hate"
First and foremost, Ben Galley knows how to wield his words wondrously! I was in awe with the flow of the first chapters because of his writing style. There was a compelling blend of decadence and dry wit humor in his writing that it kind of reminded me of Brian Staveley's masterful work in Skullsworn. Reading this kind of prose reminded me of the incredible talent these authors have, not just in telling a story but in delivering it in all such an artfully manner! This just makes my heart glow aaaaahhhh.
A commentary on the human psyche from outside elements.
This is by far the strongest suit of The Heart of Stone. Task, the golem is known for his inclination to human emotions which his brethren seem to lack. He has seen so many shifts in his life, the ravages of war, the predictable patterns of greed and weaknesses in humans, yet he seems to always yearn to feel the futility of life. Reading about his perspective was both enthralling and surprising.
Ben Galley really depicted a nuanced picture of Task in all of his facets and it was amazing to read how he divulges on the human psyche through the detachment Task felt. This particular excerpt was on of my favorites!
"I feel sorry for you, Task.'
'Don't bother.'
'No, not because you've suffered, or you're cursed, but because you don't realise.'
He threw her a quizzical look.
Lesky reached out a hand and placed it on his stone. He tensed, but felt nothing, just the warmth of her skin.
'You don't realise how human you are. All of us. Alabast, Ellia, me, Huff, even you, with a mind made out of stone. We all walk around pretendin' we're not broken in some way. Most spend their lives hiding it. But we are broken. And you know what? That's fine. In fact, it's perfect because it's imperfect. Each crack, each blemish, each scar, whether of the skin or in the mind, they make us whole. We're made through livin', not by bein' born. What we learn is what shapes us. Some choose a friendly shape, others somethin' more jagged and sharp. That is what it means to be human, Task. We can choose. You say your master made a mistake? Made you broken? I think he made the finest golem there is. One who's more than stone, not just some mindless machine. One who can make actually make a choice for himself. One who's got a conscience. A heart."
Task in a sense reveals his humanity in his flaws that unravels throughout the story. This was really a great read because of how Ben Galley fleshes out the characters especially Task!
Skirts on the emotional truths in a war.
The majority of the book's happening takes place in the midst of war and I like the fact that we get to see and deconstruct different factions or the caste system in an army that we don't usually get to see. It also even came to the point was war became such a trivial thing which added to the stark contrast perpetually present in the book.
Overall, this was an interesting read and I really love Ben Galley's writing style. However, the only qualms that I have were how there are clear cut lines in the antagonist's motivation. It was kind of anticlimactic as well despite Task's nuanced characterization. Other than that, it was definitely a nice fantasy read.
About the Author
Ben Galley is an author of dark and epic fantasy books who currently hails from Victoria, Canada. Since publishing his debut The Written in 2010, Ben has released a range of award-winning fantasy novels, including the weird western Bloodrush and the epic standalone The Heart of Stone. He is also the author of the brand new Chasing Graves Trilogy.
Follow The Tour!