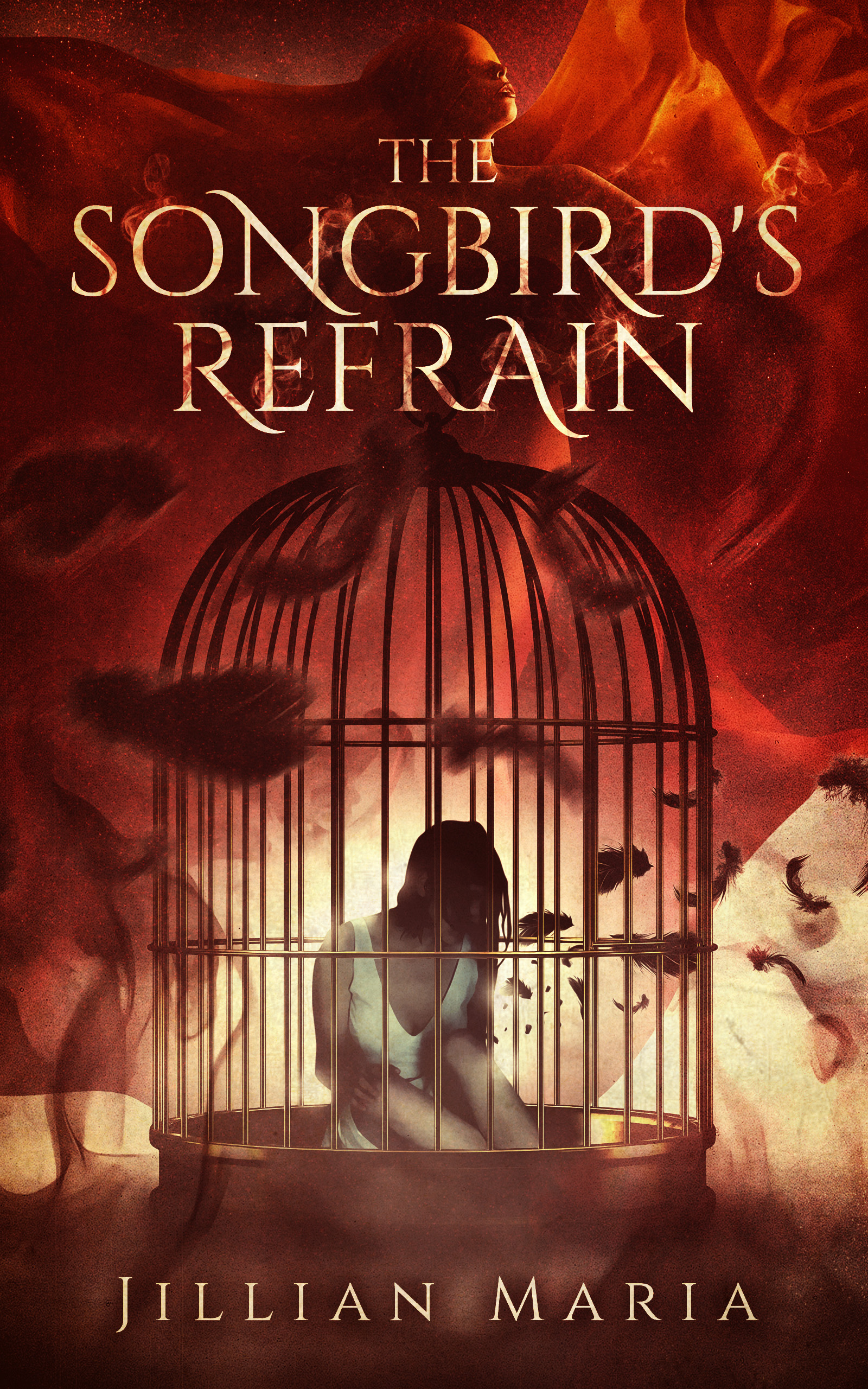 Title: The Songbird's Refrain
Author: Jillian Maria
Publication Date: September 3, 2019
Rating: 3.50/ 5.00
Synopsis:  
When a mysterious show arrives in town, seventeen-year-old Elizabeth Brighton is both intrigued and unsettled. But none of the acts capture her attention quite like the blue-eyed woman. Locked in a birdcage and covered in feathers, the anguish in her voice sounds just a little too real to be an act—because it isn't. The show's owner, a sadistic witch known only as the Mistress, is holding her captive.
And she's chosen Elizabeth as her next victim.
After watching the blue-eyed woman die, Elizabeth is placed under the same curse. She clings to what little hope she can find in the words of a fortune teller and in her own strange dreams. The more she learns, the more she suspects that the Mistress isn't as invulnerable as she appears. But time is against her, and every feather that sprouts brings her closer to meeting the blue-eyed woman's fate. Can Elizabeth unlock the secret to flying free, or will the Mistress's curse kill her and cage its next victim?
Add it on Goodreads | Buy it on Amazon
Hello there, allies, archenemies and, everyone in between! I was given the chance to review an ARC of this book by the author herself and her book was such an unexpected surprise. I've had a little reading slump last month but The Songbird's Refrain pulled me out of that little rut!
This was the first sapphic book that I've read and I'm very much thankful for Jillian with giving me this opportunity.
Seamless writing that utterly captures the reader's attention.
Jillian Maria's writing (okay first of all her name has such a nice ring to it don't you think?) has this magnetic pull and silent allure that just keeps you on your toes while reading. It felt vaguely familiar and provided a fresh voice at the same time. I don't know exactly why I described it that way but there's just something familiar and unique in the seamless writing that begs you to read more! This is probably the reason why I read the book incredibly fast.
Posits a social commentary on the pitfalls of our inner critic and why self-sabotage is everybody's frenemy.
This is by far the strongest theme that I got from reading The Songbird's Refrain. Elizabeth, the main character struggles with her crippling self-doubt which is explained to be connected with some magical phenomena later on (not gonna spoil much here). However, if you look outside this frame, you would actually see how this book creates a narrative on how we as humans ironically attack and nurture our worst nightmare– self-sabotage. We all have our own inner critics and they are in fact an indefatigable frenemy we seem to not get rid of.
Seeing Elizabeth punish her own self because of her preconceived inadequacies was really heartbreaking to read and as someone who has experienced this horrible self-loathing, I can guarantee you that it is nasty. I think most of us have this inner critic in all of us and at some point have been crippled by our own doing. Throughout the progression of Elizabeth's journey, she struggles with her self-image and her identity and seeing her bloom in varying ways in this books is deeply satisfying.
Skirts on the softness and subtleties present in sapphic romance.
As what I've said before, this was my first time to read a sapphic YA Fantasy book! I knew at some point I have to read sapphic books (I've been trying to step out of my comfort zone and read more diversely this year!) and I was quite unprepared and scared at first. Because what if I didn't understand and appreciate it? What if I question my own sexuality because of this?
Of course, I know this isn't the intention of the book but as a straight woman who has been mistaken to have an attraction for girls because of the lack of her own femininity, it felt very nerve-wracking and uncomfortable. I'm a straight ally and I have unlearned internalized homophobia on my own through books (which took a lot of effort btw and it was a fruitful experience) but I have always been teased for being a little bit "rough", "boyish", and unconventional for a girl so it still bothers me when people reinforce their own opinion of my sexuality based on how I carry myself. I know that I am straight. I know that I am attracted to guys. But there are always people who think otherwise and I can't help but feel insulted whenever this topic is brought up because at some point this makes me question: am I not feminine enough? Is my own interpretation of my own femininity not valid?
So now you'd understand why I feel scared in reading sapphic books but fortunately, The Songbird's Refrain surprised me in positive ways! Because reading it made me feel secure with my own sexuality and still be able to acknowledge other interpretations of love by those with different orientations as myself.  I was able to see and appreciate the subtleties and softness present in the love between two women. I was able to experience their elations and feel their passion while also divorcing myself from toxic notions. And I have to thank Jillian for that!
Clear cut villain and sparseness in the world-building
These are actually most of my minor qualms as the book circulated more on Elizabeth's mind that it didn't delve on fleshing out the technicalities present in the world-building. I would have loved to read a more detailed in the magic systems and whatnot. I really think this has the potential to be a favorite because of the writing and the themes it skirted but it kind of fell flat on this part for me. I also didn't really dig how clear cut the villain in this book seemed to be as well as their motivations, some characters also felt a little detached for me because they were all a little too familiar for me in YA and likewise a little bit forgettable.
Aside from these qualms I have with The Songbird's Refrain, I can still say that this is a well-written book that I quite enjoyed! 
Favorite Quotes
"A final work of art. She's different from anything you've ever seen before, but do not let that frighten you away, because art is about finding beauty in the strangest, most frightening of places. If you listen to her tale, I'm sure you'll find that this is true."
"Most birds have only a few potential paths, and all threads lead to the same end. With you, things are much too frayed."
"Fear is pointless. People live their whole lives based on fear. Did you know that? They beg for an end to it. They think if they do all the right rituals and say all the right things, then the fear will end. But it never does. I don't have time for it. I never have."
What did you think of the premise of the book?
Isn't that book cover too gorgeous?
What sapphic books have you read and loved?